NIKA-Protector for Ropes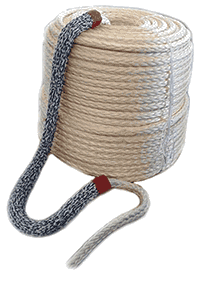 The ultimate protection for your HMPE line!
NIKA-Protector has been designed mainly for the protection of HMPE mooring lines against external abrasion in areas such as chocks, bitts etc. This easy-to-handle (user friendly) braided sleeve is highly wear and abrasion resistant and will substantially extend the service life of a High Modulus line.
NIKA-Protector is made from a special blend of UHMWPE fibers. Additionally, NIKA-Lube coating is applied in order to reduce the friction between the Protector and the abrasive surfaces and thus increase even more the abrasion resistance.
Features
Color: White/Blue with yellow stripes
Abrasion & Cut resistant
Standard length: 2,5 m (longer lengths available upon request)
Specifications
| Size | Corresponding rope diameter* | Info |
| --- | --- | --- |
| A | Up to 48mm | Placement before splicing |
| B | Up to 48mm | Placement after splicing |