Improved Mixed NIKA-Steel® 12-24 Strand Rope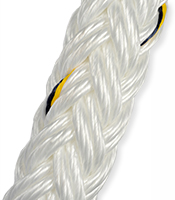 The most reliable all-purpose rope!
Improved Mixed NIKA-Steel® 12/24-strand ropes are constructed using specially twisted yarns of NIKA-Steel® fibers with High Tenacity Polyester fibers (in a 60% - 40% w/w combination respectively) in the outer layers of the strand. Each strand is composed of mixed NIKA-Steel® / HT Polyester yarns in the outer layers and NIKA-Steel® yarns in the core layer. Their mechanically balanced structure, accordant to EN ISO 10556, protects the strands' outer layers against abrasion while achieving high breaking strengths.
APPLICATIONS: MOORING – ANCHORING – TAILS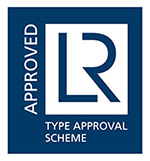 Improved Mixed NIKA-Steel® ropes' layout is ideal for applications requiring floating properties and resistance to abrasion without compromising the axial strength.
They have very good resistance to sunlight & chemicals, good resistance to cyclic loading and their efficiency remains the same both in wet and dry conditions. Best-selling Improved Mixed NIKA-Steel® is definitely an excellent multi-purpose rope.
Improved Mixed NIKA-Steel® ropes are produced according to international standards such as EN ISO 10556. They are user friendly, rotation resistant and easy to splice. They comply with the latest regulations and recommendations of OCIMF for the safe mooring of tankers.
Specific gravity: 0.99 (Floating)
Average Polyester w/w percentage: 25%
Melting point: 165 °C (NIKA-STEEL®) / 265°C (PES)
Elongation at breaking: 15%-18%
Chemical resistance to ALKALI: VERY GOOD
Chemical resistance to ORGANIC SOLVENT: VERY GOOD
Chemical resistance to ACID: EXCELLENT. Strength loss in NaOH and H2SO4 in high concentration and temperature
Technical Data
Size (Circ)
Size (Diam)
Weight
( +/- 5%)
Min. Breaking Load

Inch
mm
Kilos/ 100m
Kilos/ 220m
Tons
41/2
36
66.5
146
28
5
40
79
174
34
51/2
44
96
211
40
6
48
115
253
47
61/2
52
136
299
53
7
56
156
342
62
71/2
60
180
396
69
8
64
208
458
79
81/2
68
234
515
88
9
72
260
572
98
91/2
76
290
638
110
10
80
321
706
121
101/2
84
352
774
132
11
88
383
842
144
12
96
464
1020
169