NIKA-Siri® S-12 DB U-Cover Rope
NIKA-Siri® S-12 DB U-COVER ropes are High Modulus / High Performance ropes consisting of a 12strand load bearing core and a protective braided jacket. The load bearing 12strand core is produced using the highest quality UHMWPE fibers and the non-load bearing jacket is also made of UHMWPE fibers. The ropes' construction is firm, round and torque free.
The 12strand core is treated with NIKA-Thane-J coating and the unique heat-setting process enhances the fiber's superior characteristics. NIKA-Siri® S-12 DB U-COVER ropes are 7-8 times stronger than steel ropes and 3 times stronger than polyester (on a weight by weight comparison).
APPLICATIONS: Mooring (to be used with Synthetic tails) – Anchoring – Tow Lines (to be used with synthetic tails) – STS operations
The application of NIKA-Thane-J coating and the heat-setting process improve drastically the structural stability and the strength efficiency of the rope. Also, NIKA-Thane-J coating improves the core-jacket interaction, minimizing the jacket slack during operation. The UHMWPE jacket protects the High Modulus load bearing core against abrasion and UV/environmental degradation and thus prolongs its service life. For the jacket repair, a standard repair kit is available upon request.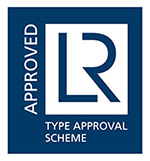 When compared to wire ropes, NIKA-Siri® S-12 DB U-COVER ropes are stronger (for the same weight), lighter (making it easy and fast to handle), safer to use and cost-saving (minimum maintenance needs, no greases, faster operating times).
NIKA-Siri® S-12 DB U-COVER ropes are an excellent wire-rope alternative and some of the reasons are the following:
Most cost effective ropes to purchase due to lower labor requirements in operations and decreased mooring & towing operating times
Safer and easier to use due to their high strength and low weight.
2-3 times longer service life
Negligible maintenance costs
NIKA-Siri® S-12 DB U-COVER JACKETED ropes are produced according to ISO 10325-2009 and they comply with OCIMF's latest regulations & recommendations for the safe mooring of the tanker-LNG-LPG vessels.
Specific Gravity: 0.97
Elongation at breaking: 3.5% (when new)
Melting point: 145oC (UHMWPE) - 256oC (PES)
Resistance to UV radiation: Excellent
Chemical Resistance to ALKALI: Excellent
Chemical Resistance to ORGANIC SOLVENT: Very Good
Chemical Resistance to ACID: Good. Resistant to H2SO4 in temperatures up to 25oC
Technical Data
Size (Circ)
Size (Diam)
Weight
( +/- 5%)
Min. Breaking Load
Inch
mm
Kilos/ 100m
Kilos/ 220m
Tons
2
16
15.1
33.2
20.1
21/4
18
20.0
44.0
26.5
21/2
20
23.4
51.5
32.9
23/4
22
28.6
62.9
40.1
3
24
35.0
77.0
47.9
31/4
26
41.0
90.2
55.3
31/2
28
46.9
103.2
65.0
33/4
30
52.7
115.9
72.8
4
32
61.6
135.5
79.7
41/4
34
68.6
150.9
84.5
41/2
36
75.2
165.4
94.5
43/4
38
84.4
185.7
106.0
5
40
94.7
208.3
120.2
51/4
42
105.4
231.9
130.9
51/2
44
116.2
255.6
144.9
53/4
46
126.2
277.6
158.0
6
48
138.7
305.1
175.6
61/4
50
151.1
332.4
190.1
61/2
52
159.6
351.1
207.4
7
56
169.9
373.8
220.1
71/2
60
198.0
435.6
257.5
8
64
226.5
498.3
284.5
81/2
68
256.3
563.9
316.4
9
72
293.4
645.5
352.5
91/2
76
324.9
714.8
391.8
10
80
364.7
802.3
459.5